Located just east of Seattle, Lake Sammamish is the perfect place to spend the day for those hoping to reconnect with nature. It's one of the most popular recreational lakes in Washington, and at less than 30 minutes from Seattle, it's also extremely convenient for a day trip.
Although technically outside the city, the lake's beaches are often counted among the best beach parks in Seattle. In addition to sun tanning and sandcastle building, Lake Sammamish is also a great place for hiking, kayaking, biking, picnicking, etc.
Below you'll find the ultimate guide to Lake Sammamish, including Idylwood Park, Marymoor Park, and Lake Sammamish State Park.
Exploring Lake Sammamish
---
Idylwood Park
Idylwood Park is located on the northwest shores of Lake Sammamish. The main draw here is the sandy swimming beach, well-equipped with a bathhouse and restrooms.
Note that the parking lot is a short distance away from the beach, so you need to haul your beach stuff along a footpath (about 200 yards). The parking lot is pretty small and fills up quickly, especially on weekends, so try to arrive early in the day so you can snag a spot.
The park is equipped with a canoe launch, so don't hesitate to bring your kayak, canoe, or paddleboard. Once you're ready for a break from the water, you can head to one of the picnic tables to enjoy your lunch.
Several picnic shelters can be reserved in advance. If you bring the kiddos along, there is also a playground and a nice open space for kiteflying or playing yard games.
While there is a kiosk to rent kayaks and canoes, it was closed when we visited and we can't find more info on it! It might be best to bring your own or come prepared to just have a chill day in case they aren't open when you visit. Luckily, there's a great spot for rentals at the state park we mention below.
---
RELATED: 17 of The Most Scenic Lakes in Washington
---
Marymoor Park
If you're looking for a bit more action around Lake Sammamish, Marymoor Park is a great option. This 640-acre green space is located on the lake's northern tip and features trails, a rock-climbing wall, sports courts, and access to the water. There is no fee to enter Marymoor Park, though you will have to pay a small fee to park your vehicle here.
Feel free to bring Fido along to this Lake Sammamish park, as there is a massive area for dogs to run off-leash! There are also large fields for soccer, baseball, and more. In addition, you can bring your non-motorized watercraft and launch it from one of the boat launches.
The park's hiking trails wind around the lake and offer great views of the water. If you choose just one trail, make it the Marymoor Park Trail. This 6.5-mile loop is an easy undertaking and offers spectacular views across Lake Sammamish and the mountains beyond.
Towards the end of the trail, you will reach a boardwalk leading out to the marshlands. You'll likely see people paddling along the calm lake surface and birds fishing for their dinner along this section. You can cut off part of the east trail and just hike along Heron Trail and along the river for the most scenic bits of the trail.
---
RELATED: The 19 Best Parks in Seattle For Adventure
---
Lake Sammamish State Park
Lake Sammamish State Park is perhaps the best park of the three. Situated on the lake's southeastern shores, the park offers two beaches, hiking and biking trails, and concessions.
Sunset Beach is the larger of the two beaches. This is the perfect spot for classic beach day activities like swimming, suntanning, and sandcastle building.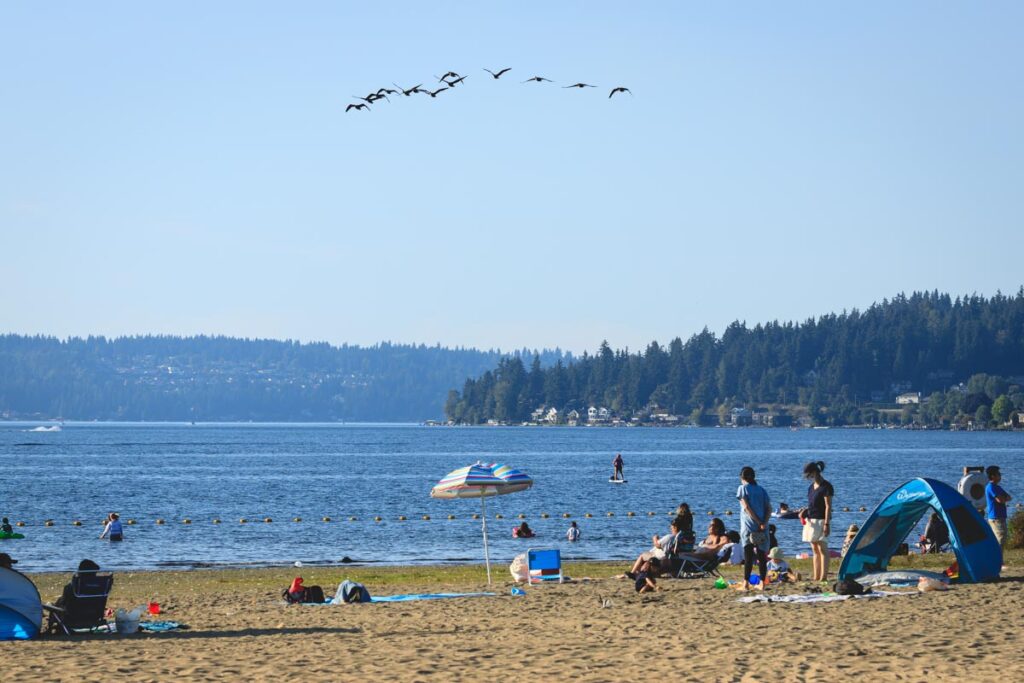 Head to Tibbetts Beach if you're looking for more action out of your beach day. This one is smaller than Sunset Beach, but kayak, paddleboard, and pedal boat rentals are available seasonally.
If you want to bring your own flotation device, there are nine watercraft launches around the park. There is also a concession stand and plenty of picnic tables. Getting between the two beaches is easy, thanks to the paved 1.5-mile trail.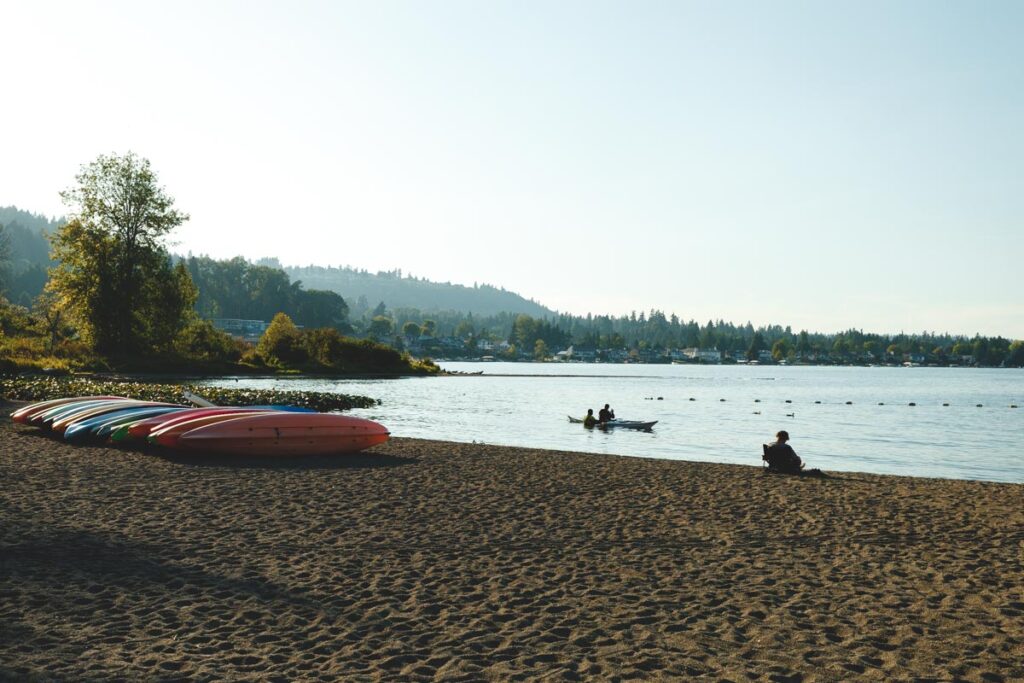 Do also note that getting to the beaches does require a short walk, so keep this in mind if you're hauling in a lot of beach stuff with you. Both beaches are great and worth visiting but we found Tibbett's Beach a bit more serene while Sunset Beach was more happening and where most people decided to crowd around.
Sunset Beach does have all of the concessions and a cafe, so if you forgot to bring your picnic, you're covered!
---
RELATED: 19 Killer Beaches in Seattle, Washington for Adventure
---
Where to Camp at Lake Sammamish
If you're coming from afar or feel like enjoying the beauty of Lake Sammamish for more than a few hours, head to Vasa Park RV. Seasonal camping is available for both RVs and tents, and the resort boasts a long list of top-notch amenities. There is beach and lake access, a boat launch, and kayak and paddleboard rentals.
There are even waterslides and a diving board if you feel like entering the lake in style. Other amenities include Wi-Fi, coin-operated laundry and shower facilities, fire pits, and various sports courts. The park is open from May 15 to October 15, and reservations are limited to 14 days. It's really the only spot to camp AT the lake!
This is where we camped to enjoy the lake as well as to explore more of Seattle! We found this area to be a perfect distance to the city where we could enjoy the best of both worlds—proximity without being in the bustle.
We hope this post help you plan your trip to Lake Sammamish! Don't forget to check out other adventures near Seattle.
I'm an Oregon native but neighborly and equally as enchanted by Washington. I tackle expeditions around the world and love a good beer at the end of the day. PNW obsessed, VW nerd, and surf or snow riding fanatic.