Although Washington is loved for its dramatic Pacific coastline, there are plenty of other ways that you can enjoy the water in this state, too… like the countless epic lakes in Washington!
There are so many to enjoy in the state, from the vast Baker Lake to smaller pools that are great for a chilly splashing around like Lake Valhalla. This article has collated the 17 best lakes in Washington, with details about things to do in the surroundings!
17 Best Lakes in Washington State
---
Best Lakes in Washington's North Cascades Area
1. Baker Lake
Unlike many lakes in Washington, Baker Lake doesn't have snow for most of the year due to its low elevation. This means it's great to enjoy year-round – although you might not want to take a dip in it in the winter! The stunning blue lake is surrounded by mountains and rich verdant forest.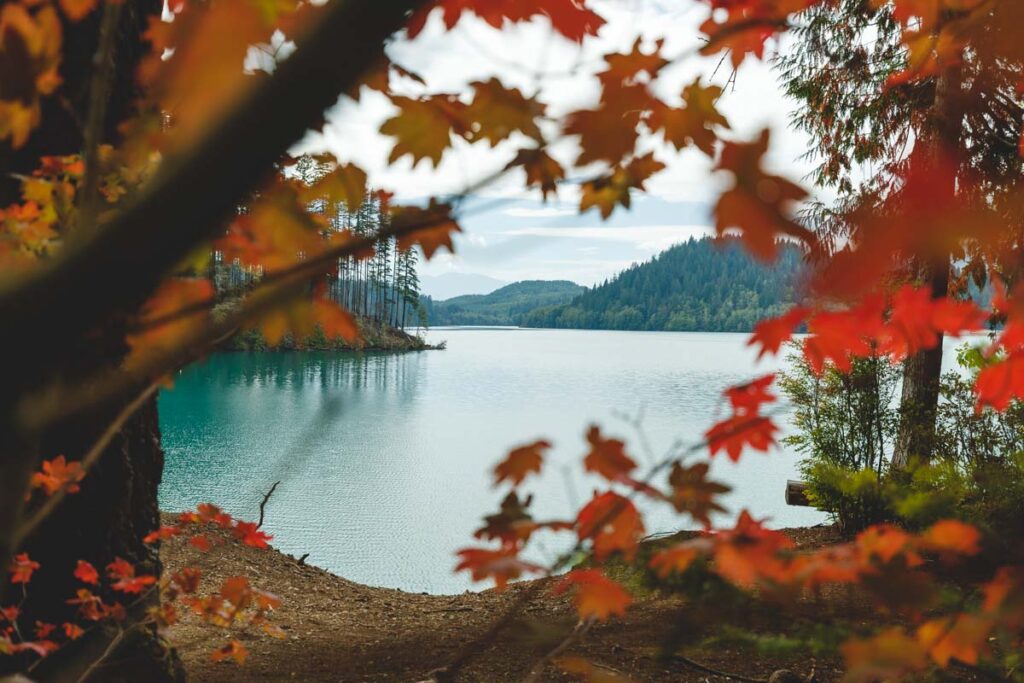 Things to do at Baker Lake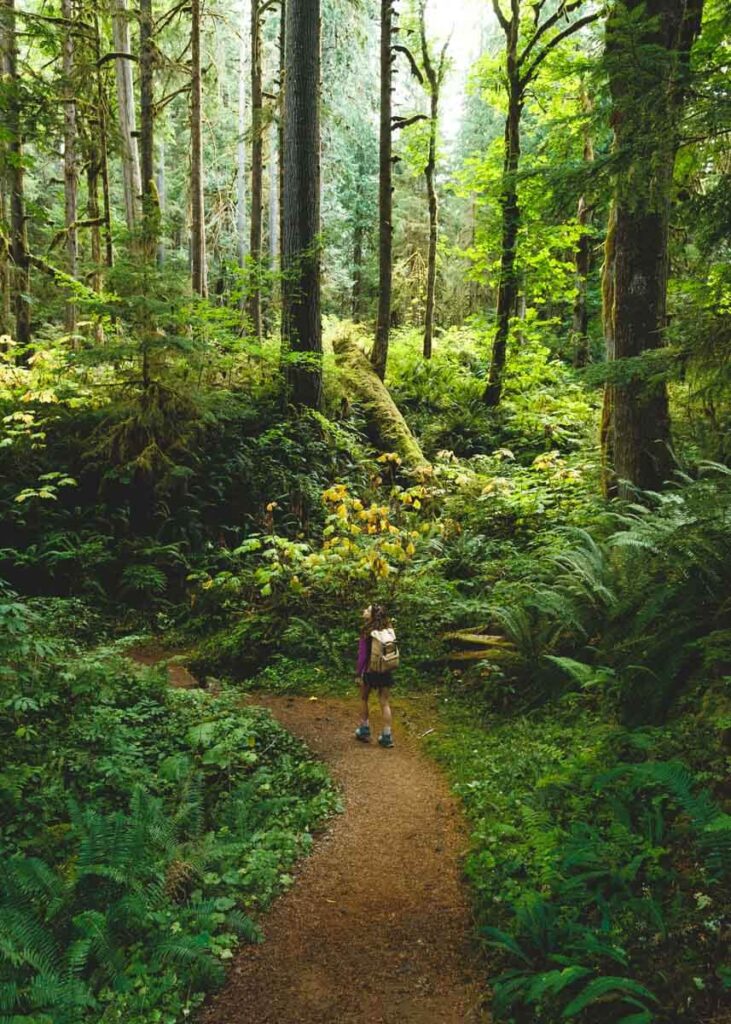 Camping at Baker Lake
Swift Creek Campground has a $5 day-use fee, or it costs $9 to park up overnight.
Panorama Point is also nearby and has the same fees.
2. Ross Lake & Diablo Lake
These two gorgeous lakes are located in North Cascades National Park and separated by Diablo Dam, sitting in the stunning alpine scenery. Enjoy breathtakingly azure waters and a fringe of dramatic snow-capped mountains as you take in the incredible vista!
Things to do at Ross Lake & Diablo Lake
The Diablo Lake Trail is 7.5 miles and takes you around the lake's northern shoreline.
Thunder Knob Trail is also nearby and climbs high above Diablo Lake for some stunning views of the electric blue lake.
It's also worth checking out the Diablo Dam and Ross Dam.
There are also tons of other hikes in North Cascades National Park, one of the most stunning national parks in Washington and one of the least visited national parks in the country!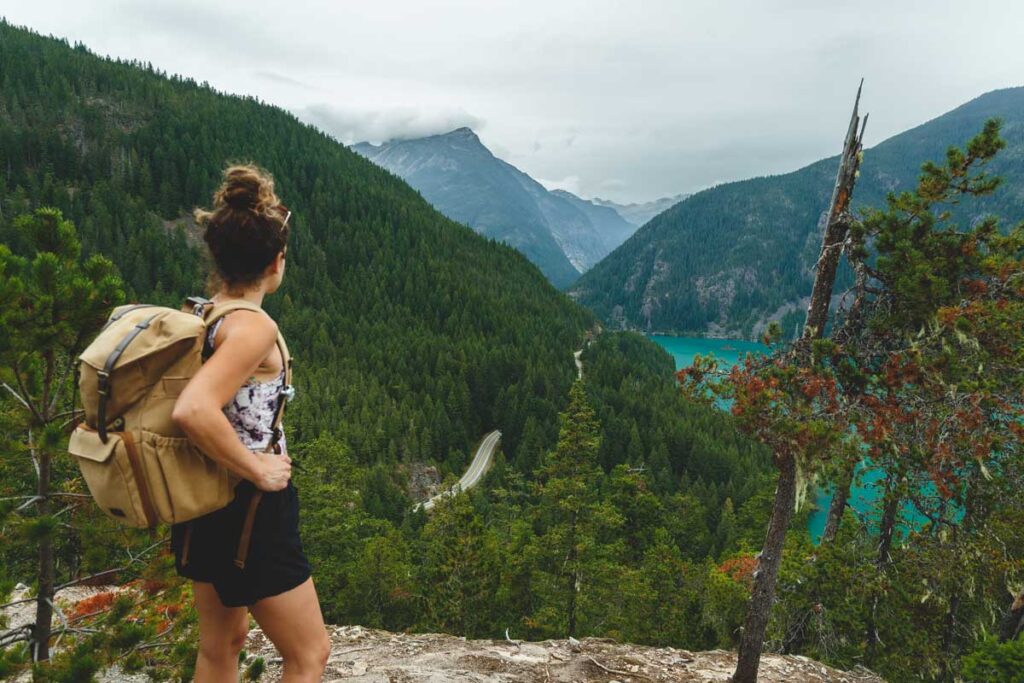 Camping at Ross Lake & Diablo Lake
Thunder Point Campground is a boat-in campsite on Diablo Lake, with a few tent sites but no facilities.
---
RELATED: 15 Stunning Hikes in North Cascades National Park, Washington
---
3. Chain Lakes
Chain Lakes is located in the North Cascades National Park and consist of a collection of lakes – a "chain," all connected. From various vantage points, you can enjoy incredible views over the lakes. They're worth a trip from Seattle or Canada, as they're super close to the border.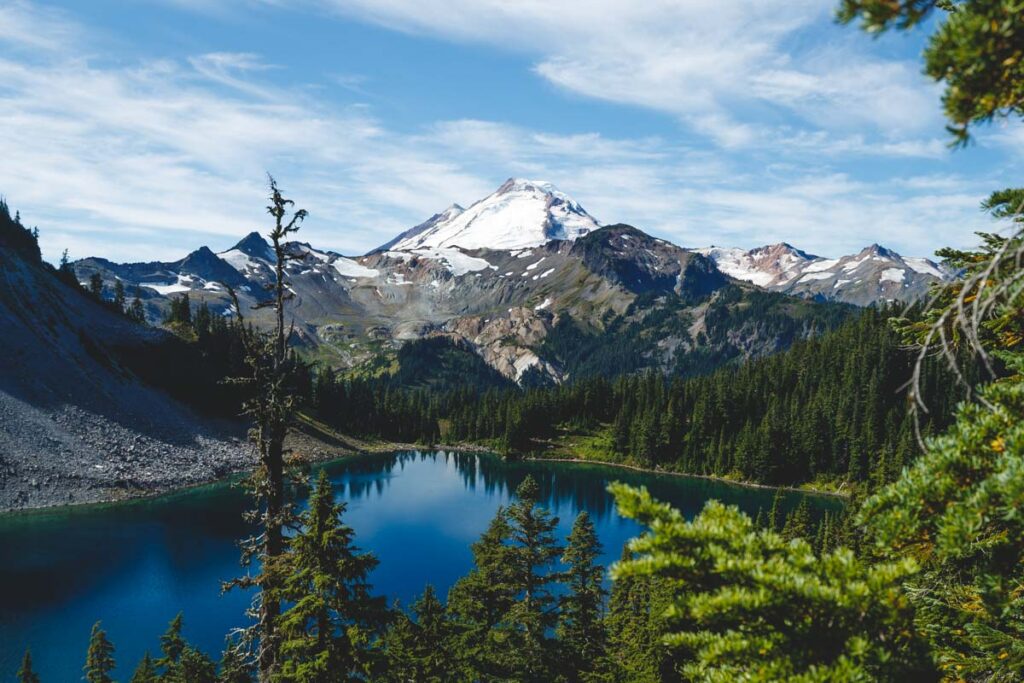 Things to do at Chain Lakes
The main thing to do is the Chain Lakes Loop. This 7.1-mile trail is one of the best hikes in the area and is a beautiful way to see all of the lakes.
You can also do the Bagley Lakes trail as an extension. This is another two-mile route that branches off the main Chain Lakes Loop.
You can also go swimming in any of the Chain Lakes – ideal for cooling down on a hot summer's day.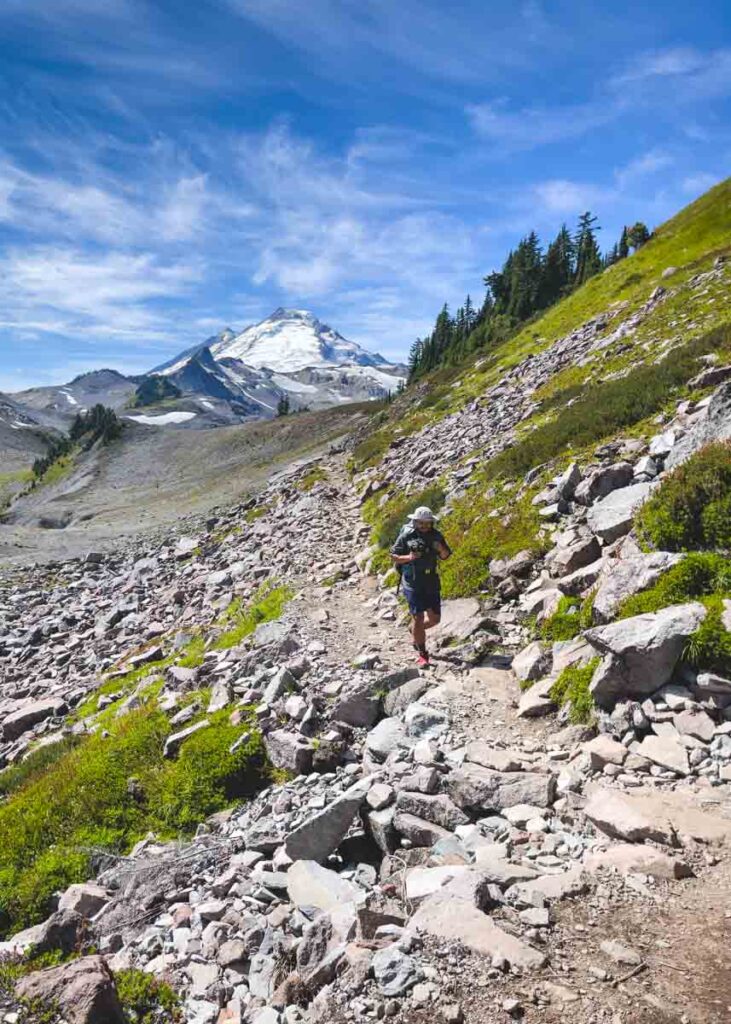 Camping at Chain Lakes
There are eight campsites on the Chain Lakes Trail: four at Mazama Lake and four at Hayes Lake. Camping is only permitted in spots with a tent sign.
---
RELATED: Hiking The Chain Lakes Loop in North Cascades National Park
---
Washington's Best Lake Around The Okanogan-Wenatchee National Forest
4. Lake Chelan
One of the most scenic Washington Lakes around Wenatchee, Lake Chelan, is uninterrupted blue bliss, fed by glaciers. With an average of 300 days of sunshine, it's one of the most-loved visitor spots in the state.
You're surrounded by vineyards and massive mountains, and there are sandy stretches of beach along this narrow yet long stunning lake in Washington.
Things to do at Lake Chelan
Go wine tasting – this area of Washington is famous for its wines. There are more than 35 wineries in the area!
Tour around the lake on the Lady of the Lake, a passenger ferry.
Stroll along the Chelan Riverwalk Park.
Go fishing – look out for trout and salmon.
Hire a boat and cruise around Chelan's waters!
Camping at Lake Chelan
Twenty-Five Mile Creek is located on the west side of the lake. It's about a 30-minute drive from the main town at Lake Chelan, but it's a great spot to stay away from it all.
Alternatively, Lake Chelan State Park is closer to town and all of its amenities!
---
RELATED: 19 Amazing Weekend Trips From Seattle (1-5 Hours Away!)
---
5. Blue Lake
Famous for its beautiful fall colors, Blue Lake is usually visited on the part of a longer hike. It's a whopping 6,254 feet of elevation and sits amongst mountains and wildflower meadows, making it a wonderful place to sit and watch the world go by.
Things to do at Blue Lake
The Blue Lake Trail is 4.5 miles and encompasses beautiful wildflowers (in the summer) and fall leaves (in the winter).
6. Lake Wenatchee
One of the most popular places to visit in this part of the state, Lake Wenatchee, is surrounded by fir trees and looming mountains. It's just north of the popular German-themed town of Leavenworth.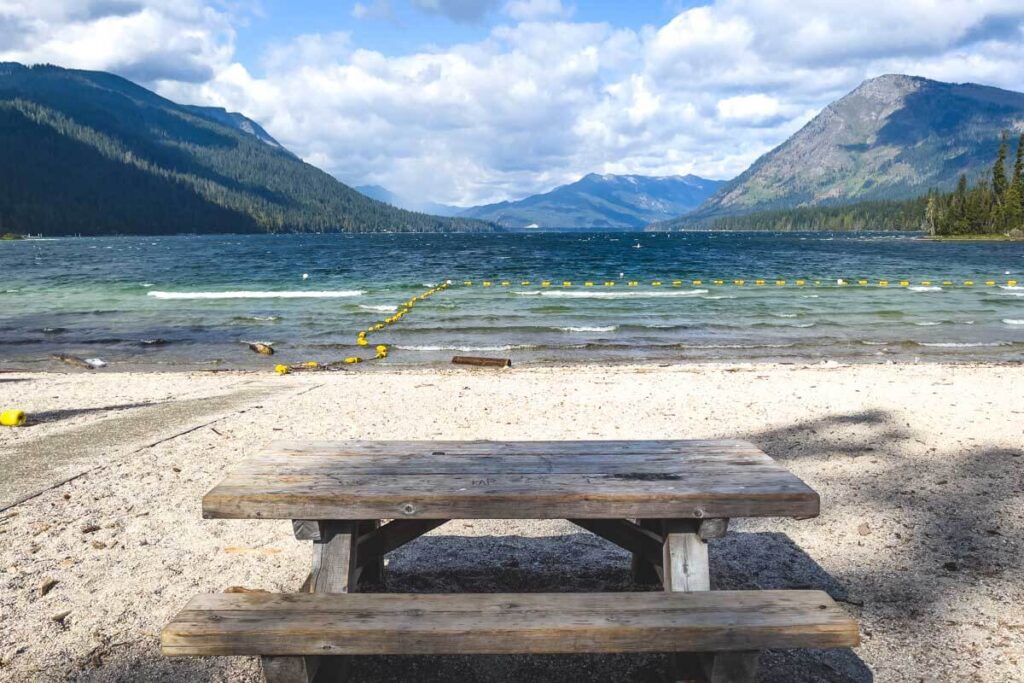 Things to do at Lake Wenatchee
Splash around in the lagoon and chill at the "beach" here.
Take a boat out into the deeper areas of the lake.
Go kayaking or stand-up paddleboarding – the calm waters at the shore are ideal for beginners.
Hike up Dirtyface Peak, a challenging 9-mile trail with beautiful views.
Go horseback riding through the surrounding forest.
Camping at Lake Wenatchee
The state park has 155 standard campsites. They also permit winter camping and have heated restrooms and hot showers! There are also several small campsites just outside of the state park with similar camping facilities.
---
RELATED: 11 Adventurous Things To Do in Leavenworth
---
7. Lake Valhalla
Another remote lake, Lake Valhalla, can be hiked to in the summer or early fall, but it's only accessible by snowshoeing in the winter! The natural beauty of the lake does make the hike worthwhile, though.
Things to do at Lake Valhalla
Hike the 7-mile out and back Lake Valhalla Trail, it's one of the most incredible hikes to a lake in Washington.
Take a chilly dip when you reach the lake!
Don't miss out on summiting Mount McCausland while you're already here, you'll get the best views over Lake Valhalla from here.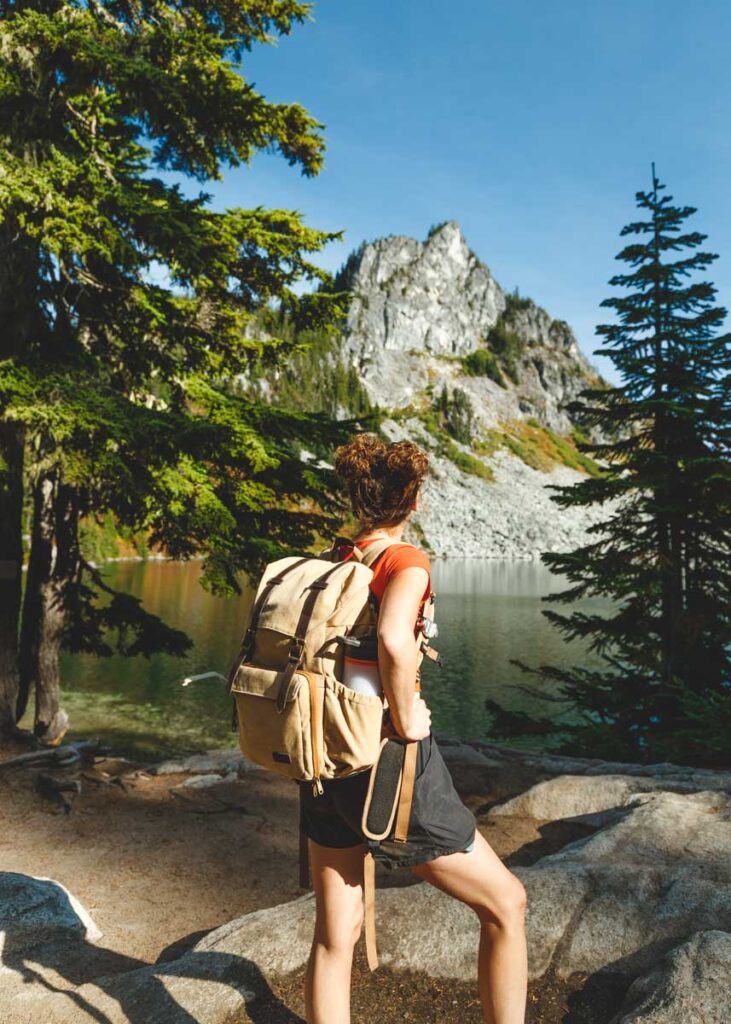 Camping at Lake Valhalla
There are a few overnight campsites near the lake and the Lake Valhalla trail. Otherwise, you're not far from Lake Wenatchee, which has many campsites.
---
RELATED: Hiking Lake Valhalla Trail + Mount McCausland Trail
---
8. Colchuck Lake & Lake Stuart
Two glorious alpine lakes that some of the wildest lakes in Washington. While the hike in and out can be strenuous, it's not too hard, and both lakes are well worth visiting! Hiking to these two lakes is one of the best hikes in Leavenworth!
Things to do at Colchuck Lake & Lake Stuart
Do the 11.7 miles out and back Colchuck Lake & Lake Stuart Trail. If you're low on time, you can cut off Lake Stuart and just visit Colchuck.
Swim in either of the lakes – but brace yourself, as it's freezing water!
Take in views of the incredible Mount Stuart.
This hike is the beginning of a much larger hike, The Enchantments, which requires a permit as it's a multi-day hike. It involves more stunning lakes!
Camping in Colchuck Lake & Lake Stuart
There are campsites near the north end of Colchuck Lake but you'll need a permit to stay.
---
RELATED: Hiking The Colchuck Lake Trail + Lake Stuart!
---
Best Washington Lakes Near Seattle
9. Lake Sammamish
Located in the Lake Sammamish State Park, this lake spans over 531 acres and has 6,858 feet of waterfront. It's a popular spot for daytrippers from Seattle, but it's also worth visiting if you're exploring the state due to the plethora of activities available here.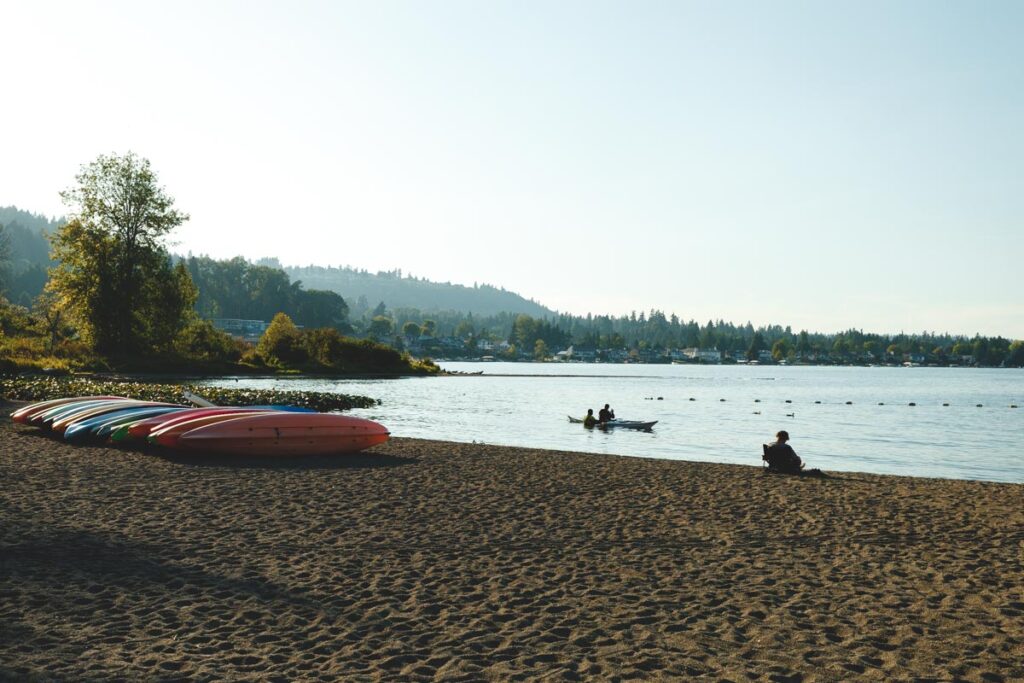 Things to do at Lake Sammamish
Rent a kayak or paddleboard and take to the water, you can rent one on Tibbetts Beach in the south of the lake.
Grab your two wheels, and cycle around the water's edge.
Go freshwater fishing.
Enjoy miles of hiking trails, the Heron Trail at the north part of the lake is a favorite.
Go swimming from designated spots like Sunset Beach in the south.
Camping at Lake Sammamish
As it's only a 25-minute drive to Seattle, most people visit the lake on a day trip, but if you want to camp, grab a spot at Vasa RV Park.
---
READ MORE: Exploring Lake Sammamish Just Outside of Seattle!
---
10. Lake Washington
The state's second-largest lake, Lake Washington, sits adjacent to Seattle and is a hive of Seattle life. If you're visiting the city but want a slice of nature, this is the place to get it! There are TONS of Seattle parks around this lake waiting for you, you could spend days visiting them all.
Things to do at Lake Washington
Walk or cycle around Seward Park, one of the best parks along the lake.
Rent canoes and row boats from the north part of the lake.
Take the Lake Washington Cruise, which shows you around some of the best parts of the area. You can even do a dinner cruise!
Camping at Lake Washington
Despite its proximity to Seattle, Lake Washington does have some campgrounds. The Lake Washington Regional Park & Campground boats 35 campsites and recreation areas, whereas the Lake Washington Park, offers 28 campsites.
---
RELATED: The 19 Best Parks in Seattle For Adventure
---
Best Washington Lakes in Mount Rainier National Park
11. Tipsoo Lake
There's nowhere quite as magical as Tipsoo Lake when the wildflowers bloom. Stand at the shores of the water, enjoying the colorful flora, and look out for friendly resident wildlife! It's undoubtedly one of the most beautiful places in the Rainier region.
Come early in the morning on a clear day for an epic reflection shot of Mount Rainier in Lake Tipsoo.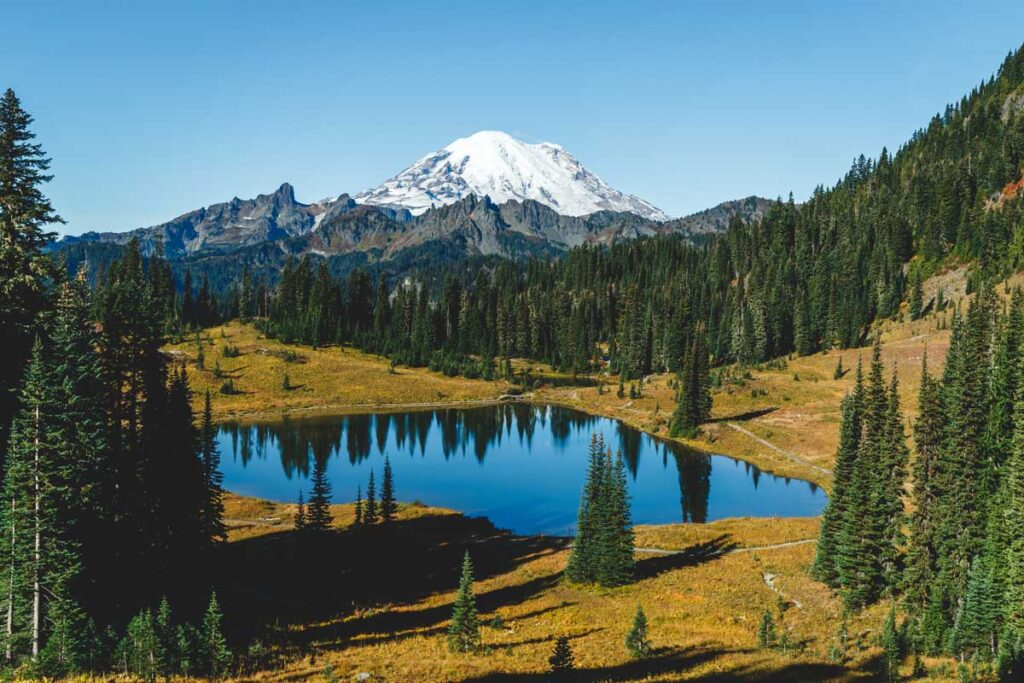 Things to do at Tipsoo Lake
Stroll around and identify the wildflowers – but don't pick any!
Look out for wildlife, like deer, elk, and cascade frogs.
Take the Naches Peak Loop Trail, which is 3.5 miles long and one of the best hikes in the area!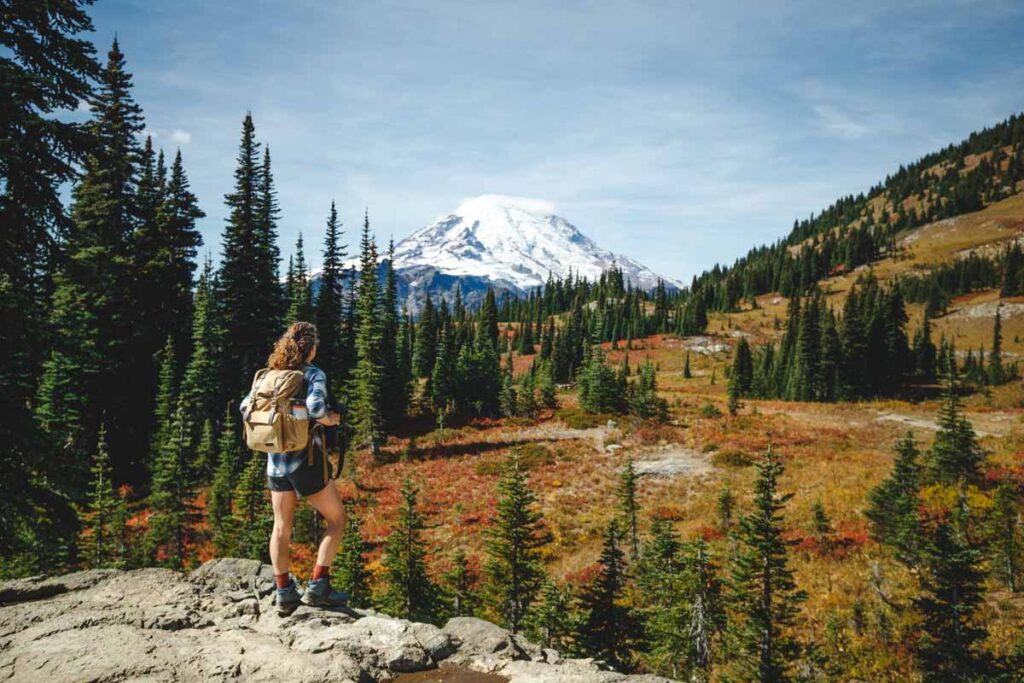 Camping at Tipsoo Lake
White River Campground is the nearest place to camp – although it's still 15 miles from Tipsoo Lake! It has 112 campsites.
---
RELATED: Hiking Naches Peak Loop Trail (Mount Rainier's Best Hike?!)
---
12. Mowich Lake
It might take a little longer to get to Mowich Lake than others on this list, but it's worth the trip. Enjoy rows of alpine trees, crystal-clear blue waters, and paths spanning up the hillside.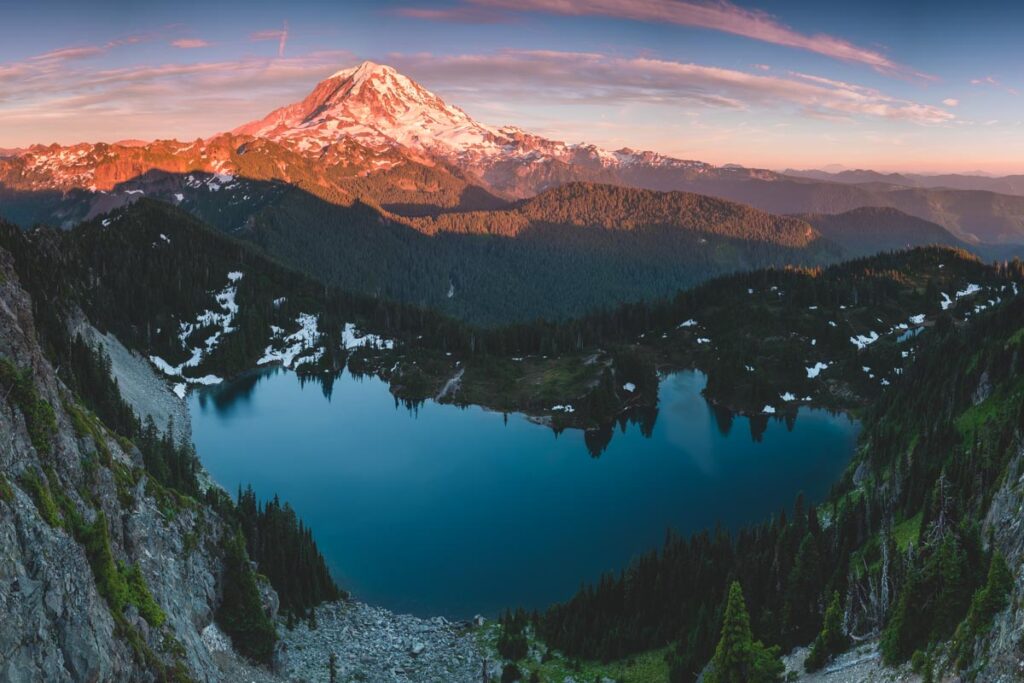 Things to do at Mowich Lake
Go fishing for trout.
Take the Tolmie Peak Lookout Trail to explore more of the vicinity.
You can go swimming, but it's freezing due to its alpine location! We recommend that you only swim if you have training in the cold water swimming and wear a wetsuit.
Camping at Mowich Lake
There is a campground at Mowich Lake with ten campsites. It is unstaffed and operates on a first-come, first-served basis.
Best Washington Lakes in Olympic National Park
13. Lake Quinault
The blue waters of Lake Quinault span over the gorgeous Olympic National Park scenery. This is a relatively large lake, so there are plenty of attractions in the surrounding area, and it's a must-visit if you're on a road trip around Washington!

Things to do at Lake Quinault
Drive around the Quinault Rainforest Scenic Loop Drive.
Or, hike the Quinault Loop Trail, which spans through some of the area's most gorgeous rainforest!
Look out for waterfalls, like Merriman Falls and Bunch Falls.
Watch for Roosevelt elk, a common sighting in this area!
Camping at Lake Quinault
Willaby Campground has 21 campsites that all look over Lake Quinault itself.
---
RELATED: Exploring Lake Quinault—Hiking, Biking, Paddling, and Camping!
---
14. Lake Crescent
Situated in the foothills of the Olympic Mountains, it's hard to imagine a more scenic location than Lake Crescent. It's a glacially carved lake, making it one of the most photogenic lakes in Washington.
Getting views from up high and down below are all worth it, you could spend days exploring this lake!
Things to do at Lake Cresent
There are a lot of hiking trails – some ascend the nearby mountains. Mount Storm King is the most recommended hike in the area!
Also, find lots of picnic areas around the lake, our favorites are at North Shore and La Poel!
You can also rent rowboats, kayaks, or sailing boats from the Fairholme General Store.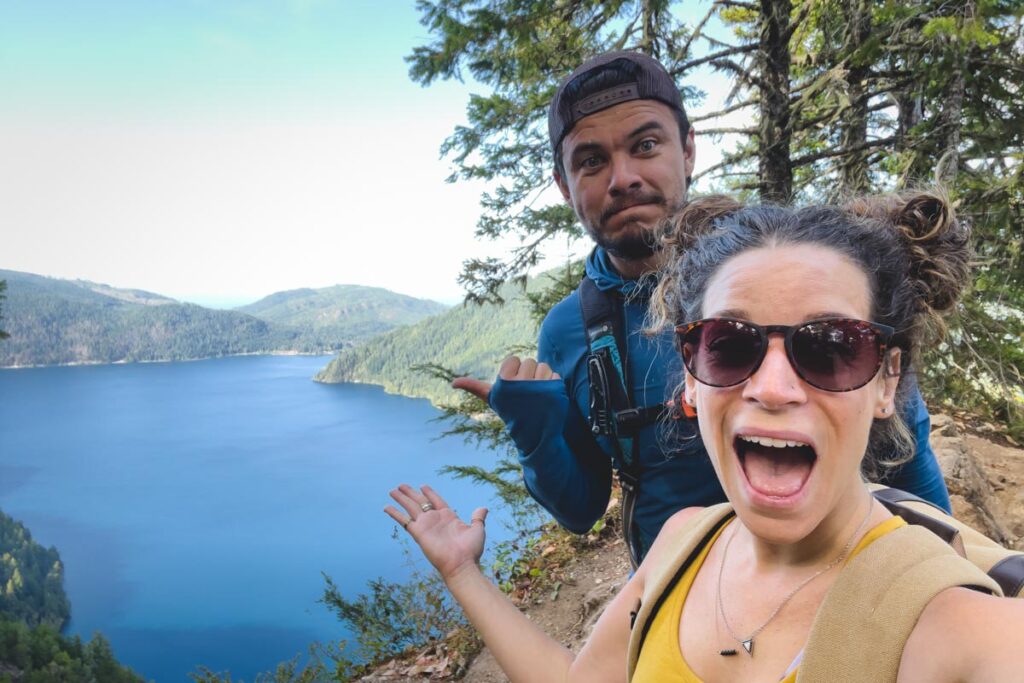 Camping at Lake Cresent
Fairholme Campground is located at the western end of Lake Cresent and has 87 campsites.
---
READ MORE: Exploring Lake Crescent in Olympic National Park: Kayak, Hike, & Camp!
---
15. Lake Cushman
Named after the Lake Cushman Reservoir, this lake is famous for its forested shoreline and clear waters. This is the closest of the Olympics area lakes to Seattle.
Things to do at Lake Cushman
Go boating on the lake.
Go fishing for rainbow trout or chinook salmon.
Undertake various trails, including the Copper Creek Trail or Jefferson Pass Trail.
Head to the Bear Gulch Day Use Area or Big Creek Campground for swimming in Lake Cushman.
Camping at Lake Cushman
Big Creek Campground has campsites available for both tents and RVs.
---
RELATED: Things To Do in Olympic National Park: 35 Must-Do Activities!
---
The Best Eastern Washington Lakes
16. Banks Lake
Banks Lake is a large reservoir popular with anglers, a 27-mile-long reservoir between Coulee City and Electric City.
Things to do at Banks Lake
Fishing is the main attraction! Look out for Smallmouth Bass and Walleye.
The Banks Lake Trail is a 1.2-mile out and back route.
17. Lenore Lake
Renowned for its very alkaline waters, Lenore Lake is home only to Lahontan Cutthroat Trout. This makes it one of the most popular places to fish for this particular species.
Things to do at Lenore Lake
Go fishing for Lahontan cutthroat trout.
Explore the Lenore Lake Caves, which is a 1.5-mile walk.
Look out for birds of prey and butterflies as you explore the area.
Many lakes in Washington are perfect for the summer months – although many can be enjoyed year-round! Hopefully, this blog post has inspired you to add a few more to your Washington bucket list this year.
World explorer, road trip aficionado, surfer wannabe, and animal lover! Florida native but obsessed with Washington and the PNW. Will climb mountains for views any day. Map nerd. Could live off of bread and cheese if needed.