Twin Falls Trail is tucked away in the scenic and serene Ollalie State Park outside North Bend, Washington. The park is famous for its cascading waterfalls, and the star of the show here is, without a doubt Twin Falls.
Lush rainforest terrain, old-growth trees, and various viewpoints of the Snoqualmie River along the path all make the Twin Falls hike a popular one. It is also easily achievable for hikers of all skill levels, so don't be surprised if the trail is busy when you visit.
Twin Falls Trail
---
Distance: 2.5 miles
Type of Trail: Out & Back
Difficulty: Moderate
Pass: Discover Pass
The Twin Falls Trailhead is where you'll start the hike, though you could also choose to begin from the opposite end via the Homestead Valley Trailhead. This article will outline the route starting at the Twin Falls Trailhead, located just off of I-90.
There is a parking lot near the trail's start, and you should plan on arriving early in the day if you hope to snag a spot. There are pit toilets available near the parking lot of the trailhead.
---
RELATED: 7 Awesome Waterfalls Near Seattle, Washington
---
Hiking Twin Falls Trail
The first part of the Twin Falls hike is relatively flat and offers splendid forest and river views. On hot summer days, it's not uncommon to see fellow hikers cooling off in the various swimming holes located along the river.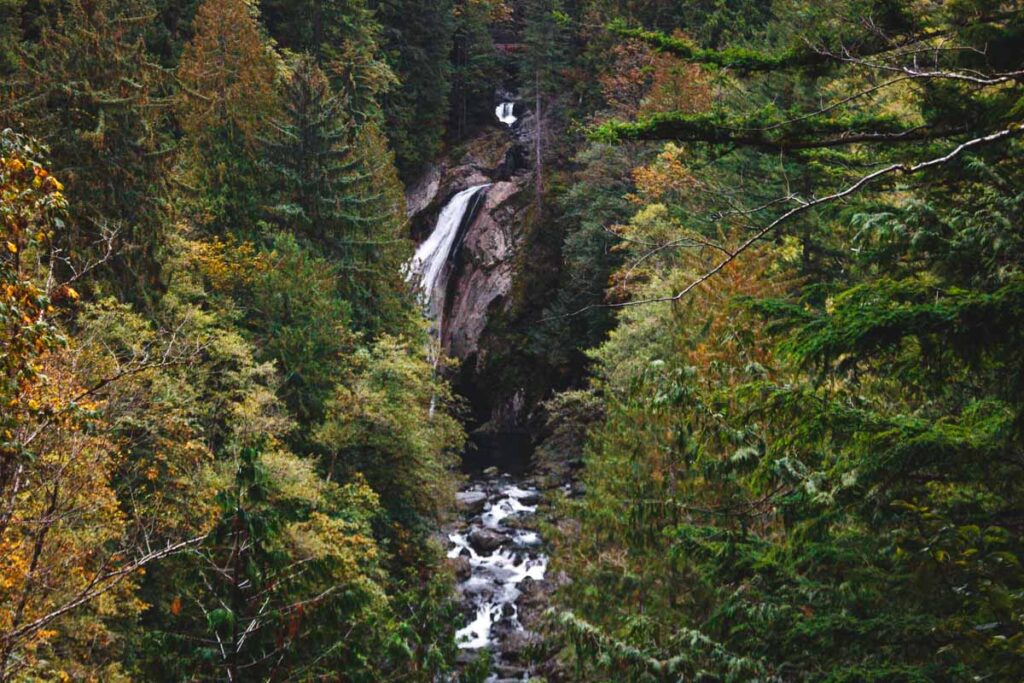 After about half a mile, you will leave the river behind and start ascending through the forest. You'll encounter a series of switchbacks before catching your first glimpse of Twin Falls. There are a few benches along this section if you need to catch your breath or rest your legs before continuing.
From here, you will begin to descend again. Take your time on this part of the path and keep your eyes peeled for massive old-growth trees. One Douglas fir measures 32 feet at its base and is estimated to be 400 years old!
You will start heading uphill once again before reaching the trail's 1-mile mark. Then the descent towards the first viewpoint begins. Once you make your way down a set of stairs, you'll reach the Lower Falls Viewpoint. This area treats hikers to the best views of the Twin Falls as they leap over a 135-foot cliff!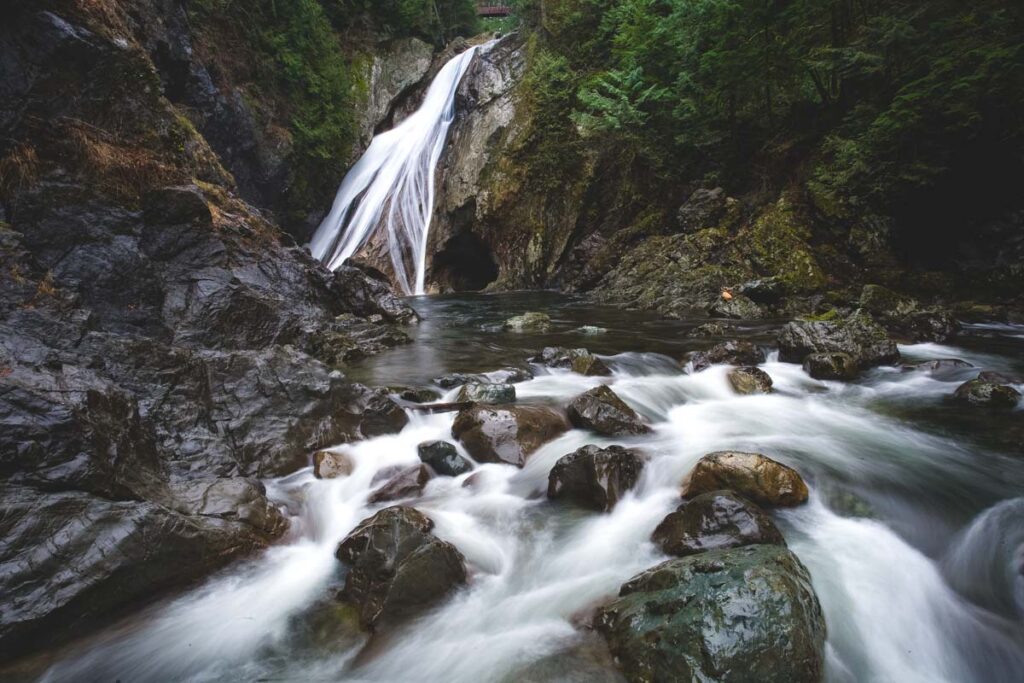 From here, the Twin Falls Trail continues for about a quarter of a mile until it reaches the Twin Falls Bridge. The bridge crosses over a narrow gorge and offers exceptional views of the Upper Falls. Many choose the bridge as a turnaround point, but you can reach the Upper Falls Viewpoint with just a bit more effort.
A steep scramble is required to attain this last vantage point, but the views from the Upper Falls are worth the endeavor. Just be careful on your way back down!
When to Hike Twin Falls Trail
There is no wrong time to hike Twin Falls Trail. The summer months are the most common time to hike and therefore the busiest. So, if you're looking for some solitude along the trail, consider hiking in the spring. Winter is also a good time to traverse Twin Falls Trail, but be sure to check the weather and trail conditions before setting out.
It will also be wetter and muddier during winter and spring so make sure your attire is appropriate.
---
RELATED: 21 Epic Waterfalls in Washington
---
Hikes Near Twin Falls Trail
For a full day of waterfall chasing near Seattle, check out these other nearby hikes. It's possible to do all three in one day and would make for an excellent Seattle day trip too.
Franklin Falls
Easy, 2-mile, out and back hike
Franklin Falls is situated in the Mount Baker Snoqualmie National Forest. This trail is short and sweet with epic views of the thundering Franklin Falls. To reach Franklin Falls, head east along I-90 for about 17 miles. Note that a Northwest Forest Pass is required for this hike.
---
READ MORE: Franklin Falls Hike: What You Need to Know!
---
Snoqualmie Falls
Easy, 1.5-mile, out and back hike
Snoqualmie Falls is another quick hike. The trail offers stunning views of native flora and fauna and a cascading waterfall. The trail is easy for hikers of all ages, with just one tricky decent at the beginning. The Snoqualmie Falls trailhead is located less than 11 miles from Twin Falls. Head west on I-90 for about 9 miles, then turn onto WA-202.
---
READ MORE: Snoqualmie Falls Hike: What You Need to Know!
---
We hope this post help you plan your hike on the Twin Falls Trail! Don't forget to check out more Washington hikes and more adventures around Seattle.
More Waterfalls Around Washington
I've been perpetually traveling and living around the world for years but it's hard to beat Washington and the PNW. After years of road-tripping the area, I guess you can say I know it pretty well! When I'm not writing guides for you, you can catch me somewhere petting a dog, attempting to surf, hiking a volcano, or stuffing my face with bread and cheese.