Olympic National Park usually makes headlines for its alpine-fed lakes and surreal mountains but there's plenty to enjoy in Port Angeles, the most well-located town around the park!
With a population of about 20,000, Port Angeles is not a huge place. However, it's a wonderful base to enjoy some of Washington's best attractions while having easy access to amenities and facilities. Here are all the best things to do in Port Angeles.
Things To Do in Port Angeles
---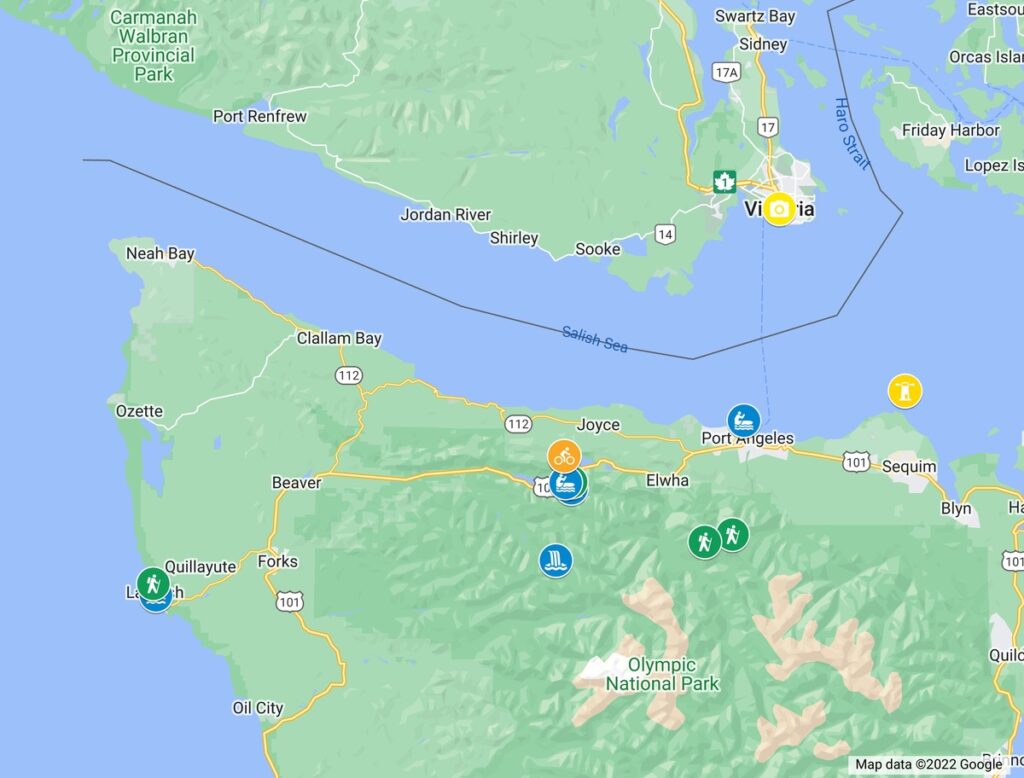 1. Bicycle Tour the Olympic Discovery Trail
With incredible views of the Olympic Mountain Range, the Olympic Discovery Trail is a popular cycling, horseback riding, or hiking trail that spans over 130 miles between Port Townsend and La Push.
With Port Angeles roughly in the center, you can leave the town and travel in either direction!
The entire trail is beautiful, but the Elwha River to Lake Crescent stretch, a sacred Indigenous area, is widely regarded as the most stunning.
2. Paddle Around Ediz Hook
A sand spit extending from Port Angeles, Ediz Hook is a prime location for stand-up paddleboarding, kayaking, canoeing, and even scuba diving, due to how it creates a natural harbor, offering protection from the rough Pacific Ocean.
It's not the most scenic harbor you'll lay your eyes on, but you can see the Olympic Mountains, and it's so conveniently located for some watersports fun.
As well as watersports, it's worth exploring the three-mile Ediz Hook on land by either walking or cycling (or you can drive too). You can bring a picnic to the "Hook" as well as there are pebbly beaches and picnic spots.
Stop at Sunrise Meats in town before heading here to grab some incredible smoked salmon so you can enjoy snacking, paddling, and staring at the Olympic Mountains!
---
RELATED: 10 Awesome Washington Coast Towns You've Got to Visit!
---
3. Hike Hurricane Ridge
Distance: 3.4 miles
Type of Trail: Out & Back
Difficulty: Moderate
Elevation Gain: 826 ft
A ridgeway with impressive views not far from Port Angeles is a gorgeous way to take in the Olympic Mountains and get your heart racing with some steep inclines!
Take it in with a Hurricane Hill via Hurricane Ridge Trail; that's 3.4 miles out and back and should take just under two hours to complete. You'll get stunning views of the Olympics Mountains and maybe even spot a marmot or mountain goat.
The Hurricane Ridge Visitor Center is also worth a stop if the Hurricane Hill trail is a bit too much for you. You'll get vistas of the snow-sprinkled mountains, and there are easier trails just behind the center, like the Big Meadows Trail.
---
READ MORE: Your Guide to Hurricane Ridge Trails & More in Olympic National Park
---
4. Switchback Trail (Klahhane Ridge)
Distance: 2.7 miles
Type of Trail: Out & Back
Difficulty: Hard
Elevation Gain: 1,450 ft
Popular for trekking and camping, this 2.7-mile out-and-back trail boasts surreal views over the panoramic landscape below.
As the name suggests, there are plenty of switchbacks on the trail, so make sure you're prepared! It's a seasonal trail, with snow until quite late in the year. Unlike the Hurricane Hills trail, you may get this one to yourself. It's a bit off the path but well worth the steep climb.
From above, you'll get panoramas of jagged rocks and Mount Angeles. Once you get to the top of the ridge, you can decide if you want to head back down or continue along the ridge to Lake Angeles and the campgrounds or along Heather Pass to explore other peaks.
---
RELATED: 15 Best Hikes in Olympic National Park, Washington
---
5. Lake Crescent
Lined by mountains and gorgeous fir trees, Lake Crescent is an eight-square-mile lake with crystal-clear waters.
The perfect place for spending a day relaxing, there are some small beach areas to laze back on, like at Fairholme or East Beach, or you can take a kayak out on the lake itself.
If you brought your own, head to the Mount Storm King Ranger Station to park, and you'll see the put-in. If you want to rent, head to Fairholme or Lake Cresent Lodge.
As if that's not enough, there are some great hikes in the area too. You'll need to spend a few days at this lake to really take it in. Our three top hikes at Lake Cresent are below.
---
READ MORE: Exploring Lake Crescent in Olympic National Park: Kayak, Hike, & Camp!
---
6. Mount Storm King
Distance: 5.3 miles
Type of Trail: Out & Back
Difficulty: Hard
Elevation Gain: 2,077 ft
If you want a real challenge, Mount Storm King is one of the best things to do in Port Angeles. Climbing up from Lake Crescent, it's a 5.3-mile trail with over 2,000 feet of elevation gain, part of which involves a (somewhat sketchy) rope climb and scrambling across rocks.
But if you're determined to take the challenge, you'll be rewarded with some of the most incredible views of Lake Crescent and beyond. Wear good shoes and start early, the summit is very small, and you may have to wait to get up there if you start too late in the day.
---
READ MORE: Hiking Mount Storm King in Olympic National Park
---
7. Marymere Falls
Don't fancy the uphill climb to Mount Storm King? Don't worry; there are easier ways to enjoy the scenery around Lake Crescent!
Marymere Falls has the same trailhead, and it is an easy 1.7-mile out-and-back trail that meanders through woodland and terminates at the gorgeous 89 feet high falls. For any over-achievers, this is a great hike to tack on after you finish Mount Storm King.
---
RELATED: 21 Epic Waterfalls in Washington
---
8. Spruce Railroad Trail
Distance: 11.2 miles
Type of Trail: Out & Back
Difficulty: Easy
Elevation Gain: 410 ft
The Spruce Railroad Trail is a long but easy and accessible hike, taking in waterfront views of Lake Crescent. Most of the route is flat and paved, and while the distance is 11.2 miles, you could always walk it a bit before turning around.
You'll have to at least make it to the Devil's Punchbowl area of the hike, where you'll see the water get sucked in and out of a cove while you walk it on a beautiful bridge.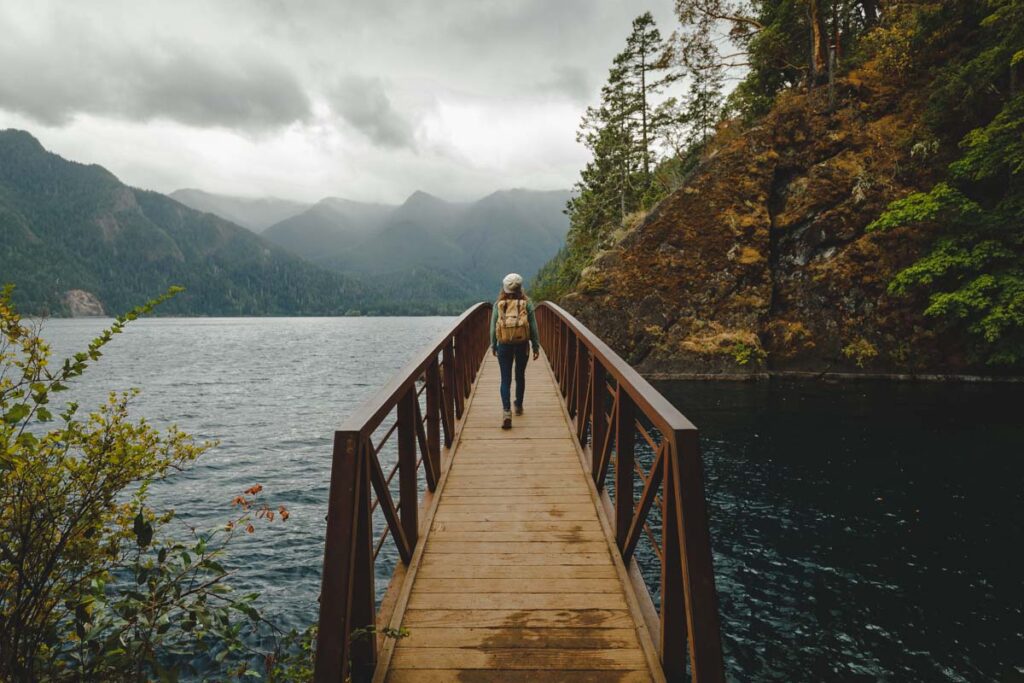 People like to jump off and swim in this hole but the water is FREEZING, so this is your warning. This spot is only about a mile into the hike. Go three miles into the walk, and you'll find the tunnel.
9. Sol Duc Falls
Sol Duc Falls is a 15 feet drop with three "shoots," sitting in a woodland area that's great for engaging in nature or photography. It sits at the end of a nature trail from the Sol Duc Falls parking lot, which is an easy and flat hike of about 1.6 miles total.
BUT You could also take the longer Lover's Lane Loop, which is 6.1 miles, and traverse through the forest! We love this version because the mossy verdant rainforest is enchanting to meander through, and the trail is longer but still easy.
You'll also happen upon a few other secret smaller waterfalls, which are perfect for picnicking or dipping your aching feet in for a refresh.
---
READ MORE: Your Guide to Hiking The Sol Duc Falls Trail
---
10. New Dungeness Lighthouse and Spit
The New Dungeness Lighthouse is one of the best things to do in Port Angeles for history lovers.
Built in 1857, it is the second oldest lighthouse in Washington. It stands at the end of the Dungeness Spit, the world's longest natural sand spit.
It's a five-mile hike from the parking lot to the lighthouse, and you can take in amazing views of the Strait of Juan de Fuca from here!
11. Rialto Beach & Hole in the Wall Trail
Distance: 3.3 miles
Type of Trail: Out & Back
Difficulty: Moderate
Elevation Gain: 108 ft
Rialto Beach is classic coastal Washington, with crashing waves and glorious sea stacks.
From here, you can walk to the mysterious Hole in the Wall, a sea stack with a hole carved out of it. It's about a 3.4-mile out-and-back hike spanning along the beachfront.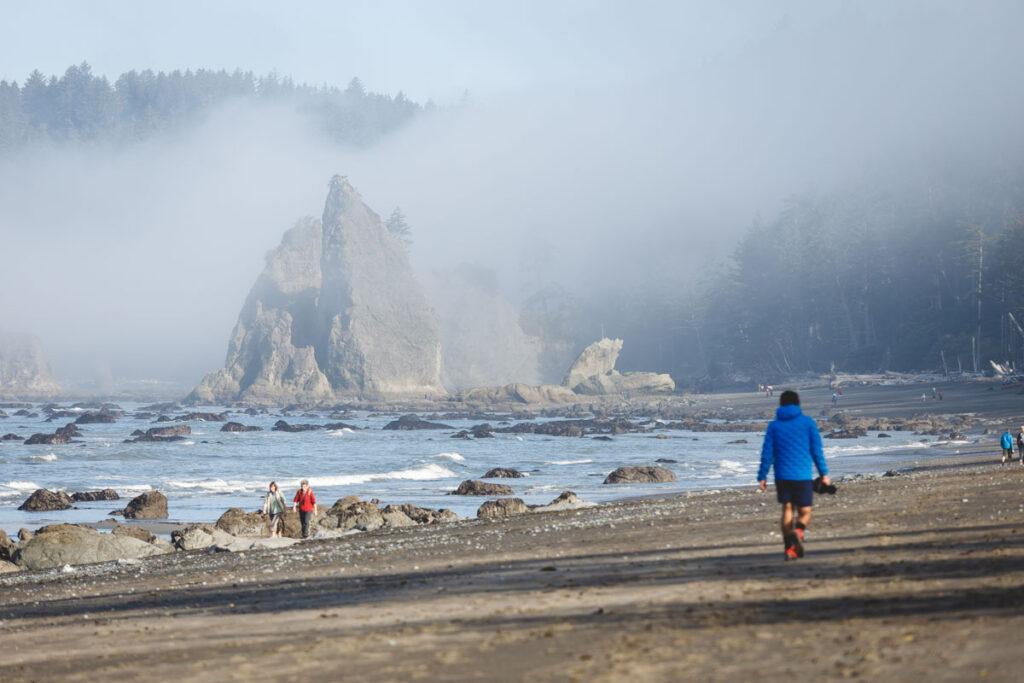 This is one of the must-do hikes in the state, no less one of the best things to do from Port Angeles, it's only about an hour and a half, so it will make a perfect day trip.
Plus, in the same day, you can easily add on La Push with just 20 minutes more driving…
---
READ MORE: Hiking Rialto Beach to Hole in the Wall in Olympic National Park
---
12. La Push Beach and Trails
Close to Forks, a town made famous because of its Twilight filming locations, La Push Beach extends across the Pacific Coastline. It is composed of not one but three beaches, which are great for surfing and relaxing!
The easiest to reach is La Push One, although the most popular is actually La Push Two, which is a ¾-mile walk from the parking lot.
La Push Three is the most remote, a 3.6-mile round trip hike from the parking lot, but it's also the quietest, perfect if you want some solitude!
If you're up for a night away from Port Angeles, you can actually camp at Second and Third Beach, just make sure to grab your permits beforehand.
These are some of the best beaches in Washington so don't miss out on this area from Port Angeles!
---
READ MORE: Your Guide to La Push Beaches in Olympic National Park
---
13. Take a Day Trip to Victoria, BC, Canada!
One of the best things to do in Port Angeles is actually to leave the country—Grab your passport and head north!
Coho Ferry offers four return trips to Victoria in British Columbia every day in the summer. The first ferry goes at 8:20 am, and the last ferry from Victoria departs at 7:30 pm (there is a more reduced service in the fall, winter and spring).
Victoria is a gorgeous city, the perfect size for a day trip, with architecture that will make you feel like you're in Europe. British colonial history is still evident today in tearooms, double-decker buses, an abundance of museums, and the opportunity to explore the British Columbia Parliament Building.
In fact, if you're super keen on visiting Canada during your visit to Washington, Vancouver is only a hop skip, and a jump away if you're looking for weekend trips from Seattle! You can easily check out some of the things Canada is famous for, see its incredible nature, and perhaps stay across the border a bit longer than you had planned.
Where to Stay in Port Angeles
Cozy Garden Cottage
This classic cottage is surrounded by a beautiful landscaped garden, giving you complete tranquility in the center of Port Angeles. Enjoy cozy nights in, breakfast on the patio, or all of the attractions that the town has to offer just minutes from your door.
Captain's Cottage
Just a short drive from downtown, you'll find this delightful nautical themed cottage. Located in a quiet neighborhood, it features all mod cons like keyless entry, high speed internet and a 55" flat screen TV.
Sea Shell Cottage
Another seaside themed home, this one is just three blocks from downtown Port Angeles. The two-bedroom cottage is charming and colorful, with some luxury touches including quality bed linen and a deep claw-foot bathtub.
Olympic Peninsula RV
If you want to get a little more country air but still be within easy reach of Port Angeles, this RV experience might be for you. The spacious two-bedroom van can sleep up to five, and there's a picnic area and fire pit for making the most of the outdoors.
---
RELATED: Where to Stay in Olympic National Park, Washington
---
Port Angeles is a small Washington town, but the plethora of attractions in town and surrounding areas mean you'll never get bored!
With some of the state's best nature, challenging and easy hiking trails, and even the chance for an international day trip, this is one of the best vacation spots in the Pacific Northwest.
More Around Washington Coast
I've been perpetually traveling and living around the world for years but it's hard to beat Washington and the PNW. After years of road-tripping the area, I guess you can say I know it pretty well! When I'm not writing guides for you, you can catch me somewhere petting a dog, attempting to surf, hiking a volcano, or stuffing my face with bread and cheese.